| | Name | Ask | | Bid | | Spread | 1D Chg, % |
| --- | --- | --- | --- | --- | --- | --- | --- |
| | EURGBP | | | | | | |
| | GBPJPY | | | | | | |
| | USDJPY | | | | | | |
| | GBPUSD | | | | | | |
| | EURUSD | | | | | | |
| | CADCHF | | | | | | |
| | CADJPY | | | | | | |
| | CHFJPY | | | | | | |
| | EURCAD | | | | | | |
| | EURCHF | | | | | | |
| | EURJPY | | | | | | |
| | GBPCAD | | | | | | |
| | GBPCHF | | | | | | |
| | USDCAD | | | | | | |
| | USDCHF | | | | | | |
| | AUDCAD | | | | | | |
| | AUDCHF | | | | | | |
| | AUDJPY | | | | | | |
| | AUDNZD | | | | | | |
| | AUDUSD | | | | | | |
| | EURAUD | | | | | | |
| | EURCZK | | | | | | |
| | EURHUF | | | | | | |
| | EURNOK | | | | | | |
| | EURNZD | | | | | | |
| | EURPLN | | | | | | |
| | EURSEK | | | | | | |
| | EURSGD | | | | | | |
| | EURTRY | | | | | | |
| | EURZAR | | | | | | |
| | GBPAUD | | | | | | |
| | GBPHUF | | | | | | |
| | GBPNOK | | | | | | |
| | GBPNZD | | | | | | |
| | GBPPLN | | | | | | |
| | GBPSEK | | | | | | |
| | GBPSGD | | | | | | |
| | GBPTRY | | | | | | |
| | NOKSEK | | | | | | |
| | NZDCAD | | | | | | |
| | NZDCHF | | | | | | |
| | NZDJPY | | | | | | |
| | NZDUSD | | | | | | |
| | USDCNH | | | | | | |
| | USDCZK | | | | | | |
| | USDHKD | | | | | | |
| | USDHUF | | | | | | |
| | USDILS | | | | | | |
| | USDMXN | | | | | | |
| | USDNOK | | | | | | |
| | USDPLN | | | | | | |
| | USDRON | | | | | | |
| | USDRUB | | | | | | |
| | USDSEK | | | | | | |
| | USDSGD | | | | | | |
| | USDTRY | | | | | | |
| | USDZAR | | | | | | |
Trade Forex CFDs
with Eurotrader
The forex market is the biggest in the world. As of April 2022 it reached US$7.5 trillions per day 30 times greater that the world total GDP. 
The four most traded currency pairs in the world have been coined the 'majors'. They involve the following currencies: Euro, US Dollar, Japanese Yen and Pound Sterling. The most popular pairs being EUR/USD, followed by the USD/JPY, GBP/USD and USD/CHF pairs respectively.
There are a few other currencies that deserve to be mentioned. Informally known as the 'commodity pairs',  
the AUD/USD or 'Aussie', USD/CAD and NZD/USD are all frequently traded currency pairs. Unsurprisingly, this group of currencies derives its nickname from the fact that they come from countries that possess large quantities of natural resources.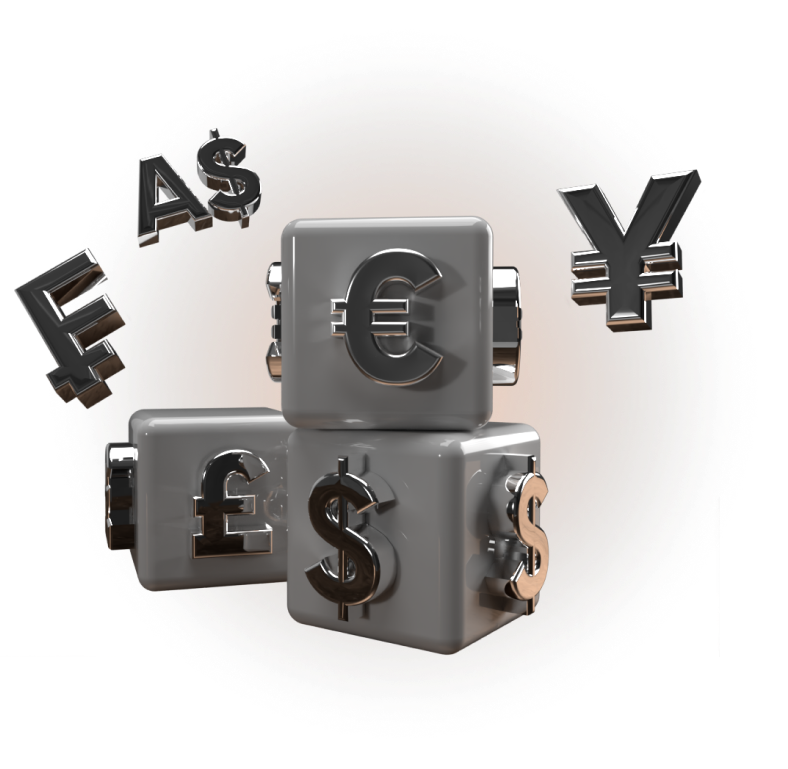 Our all in one calculator helps you calculate any parameter relating to your trading whether that is the pip value in your base currency, the Swap cost, and the margin required to open a trade. It can even assist you in calculating where to place your take profit or stop loss depending on how much you want to risk. 

Our educational center is there to assist you in better understanding the CFD market and together with our bespoke economic calendar comprise an invaluable tool for every trader. 

We have partnered with Trading Central that brings useful insight to every trader. With a comprehensive daily newsletter, a top of the class economic calendar and a connectivity to MT4 and  MT5 it will empower your trading skills and optimize your trading strategies through a combination of actionable technical analysis, educational guidance and customizable alerts. 

Experience tighter spreads and maximize your trading potential.
Our commitment to transparency ensures you get the best rates.

Access a deeper market with superior liquidity for smoother trades.
We connect you with major banks and financial institutions, ensuring continuous trading flow.

Never miss a trade with our 
lightning-fast execution speeds.
Our advanced technology ensures your orders are processed in milliseconds.

No Dealing Desk Intervention
Trade with confidence, knowing there's zero interference from our side.
Direct market access guarantees a fair and transparent trading environment.

Flexible Trading Conditions
Tailor your trading strategies with our adaptable platform settings.
Whether you're a beginner or a pro, our platform caters to every trader's needs.